Experience A Winter Walk with Hawks
Experience the majestic beauty of the most feared diurnal birds of prey.
Ohio School of Falconry presents A Winter Walk with Hawks at Camp Mary Orton (7925 N High Street Columbus) this Saturday Feb 2 and Saturday Feb 16. Each day will begin at 10 a.m. in the Leadership Challenge Center with light refreshments (coffee and hot chocolate) and a variety of breakfast Danish before trekking out to watch the birds fly.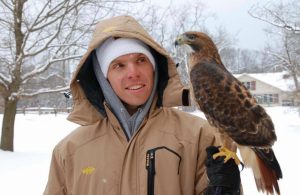 Join the Ohio School of Falconry for one of their first ever Winter Walk with Hawks programs and experience the stark beauty as their hawks navigate through the forested winter landscape and come to land gently on your outstretched glove!  PLUS, use the promo code "FLY20" and you'll get 20% off this unique winter offering.
During the program, you'll learn about how native raptors (hawks, eagles and owls) have adapted to survive Ohio's frigid winters and what an ever-warming climate will mean for their future survival.  All this, while also learning about the ancient sport of falconry and experiencing first hand many of the school's ambassador raptors (Chase the Red-Tailed Hawk, Henson the Eurasian Eagle Owl, Dr. Hoo the Barn Owl, Shelley the Peregrine Falcon and a cast of our Harris' Hawks).
For more information, visit https://www.facebook.com/events/564567590636758/.
Tess Abney is a freelance writer who was born and raised in the Quad Cities. She spends most of her time attempting to successfully raise three boys. In her free time, writing is her passion. Whether it is sharing local events and businesses with readers or sharing her thoughts on life, she finds comfort in the way words can bring people together.