7th Annual Film Festival of Columbus Happening This Week!
Do you love movies? Do you love Columbus? Then this festival was created just for you!
The 7th Annual Film Festival of Columbus will be kicking off on Wednesday Aug 8 at the Gateway Film Center (1550 N High St. Columbus). Due to the high number of submissions this year, the festival will be adding a day and running through Sunday Aug 12!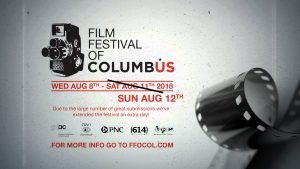 The Film Festival of Columbus strives to raise awareness of film as art AND business. They hope to create an experience that will bring a new and diverse cultural event to the area. The Film Festival of Columbus aims to bring people together, showcasing seasoned and rising filmmakers and extraordinary work from around the world all while raising awareness of Columbus and Central Ohio as a filmmaking destination.
Here is the full line-up for this year's festival:
August 8, 7 p.m. – WE THE ANIMALS
August 8, 9 p.m. – THE ASCENT
August 9, 5 p.m. – PARALLEL CHORDS
August 9, 6 p.m. – THE VETERAN'S PROJECT
August 9, 7 p.m. – A MURDER IN MANSFIELD
August 9, 8 p.m. – RICH KIDS
August 9, 9 p.m. – BONG OF THE LIVING DEAD
August 10, 5 p.m. – PALACIOS
August 10, 6 p.m. – A MIRACLE A DAY
August 10, 7 p.m. – UNITED STATES
August 10, 8 p.m. – BLUE MY MIND
August 10, 9 p.m. – NIGHT IS SHORT, WALK ON GIRL
August 11, 12 p.m. – NOTHING TO DO
August 11, 1 p.m. – FAIL STATE
August 11, 2 p.m. – Shorts Block 1
August 11, 3 p.m. – NOTHING CHANGES: ART FOR HANK'S SAKE
August 11, 4 p.m. – Ohio Shorts
August 11, 5 p.m. – PICK OF THE LITTER
August 11, 6 p.m. – SILICON BEACH
August 11, 7 p.m. – ANTONIO LOPEZ 1970: SEX FASHION & DISCO
August 11, 8 p.m. – KNOWING NOTHING COLD
August 11, 9 p.m. – SEX WEATHER
August 12, 12 p.m. – DOUBLE MAJOR
August 12, 1 p.m. – ROSALIE
August 12, 2 p.m. – Shorts Block 2
August 12, 3 p.m. – NOTHING WITHOUT US: THE WOMEN WHO WILL END AIDS
August 12, 4 p.m. – Awards Ceremony
August 12, 4:30 p.m. – SUMMER OF '84
In addition to screenings, festival organizers are planning a variety of events over the five days including workshops, receptions, and artist talks. Opening night reception is Wednesday, August 8. Festival VIP passes are available and include invitations to opening and closing ceremonies, private parties and special events, access to the VIP lounge, and reserved balcony seating for all screenings. Festival passes and single screening tickets are also available at www.gatewayfilmcenter.org.
Don't miss this amazing week filled with film and fun!
Tess Abney is a freelance writer who was born and raised in the Quad Cities. She spends most of her time attempting to successfully raise three boys. In her free time, writing is her passion. Whether it is sharing local events and businesses with readers or sharing her thoughts on life, she finds comfort in the way words can bring people together.