Adopt These Orphans
Come check out Orphans at The Columbus Civic Theater before it's too late!
Lyle Kessler's Orphans is showcasing at The Columbus Civic Theater (3837 Indianola Avenue Columbus) this Thursday May 31 (8 p.m.), Friday Jun 1 (8 p.m.), Saturday Jun 2 (8 p.m.) and Sunday Jun 3 (2 p.m.)
General admission for the show is $20 and seniors and students are only $17.50. Tickets can be purchased online at http://www.columbuscivic.org/showsList.html or by calling (614) 447-7529.
Orphans is about two grown orphan brothers living in an old rowhouse in North Philadelphia, deserted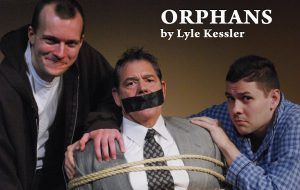 in childhood by an unfaithful father and the death of their mother. Older brother Treat, brutal and violent, provides for his younger brother Phillip by being a petty thief, interpreting the role of father.
With the love and protectiveness of an older brother and an orphan's fear of abandonment, Treat takes away Phillip's chances to grow up, depriving him of knowledge and forcing him to live in a world of illiteracy and innocence: relegating him to their lost childhood.
As Treat is out stealing to put food on the table, Phillip never leaves the house, thinking he will die from something outside because of a near deadly allergic reaction he had as a child.
Haunted by the death of their mother, he spends his time lying in her closet filled with unworn clothes. Curious about the world, he secretly attempts to understand things by watching reruns of The Price Is Right and underlining words in newspapers and old books he finds lying around.
Treat kidnaps and ties up a Chicago gangster named Harold. Harold, an orphan himself, with the prowess of an escape artist, loosens the ties that bind him, turns the tables around, and with gun in hand, puts himself into the role of teacher, healer and surrogate parent.
Do not miss Orphans at The Columbus Civic Theater this week!
Tess Abney is a freelance writer who was born and raised in the Quad Cities. She spends most of her time attempting to successfully raise three boys. In her free time, writing is her passion. Whether it is sharing local events and businesses with readers or sharing her thoughts on life, she finds comfort in the way words can bring people together.