Annadroid Alert!
The most exciting and entertaining multimedia dance and aerial company is at it again this weekend with Anna and The Annadroids: Multiverse!
Anna and The Annadroids latest production, Multiverse, will be showcasing at The Riffe Center Studio One (77 S High St Columbus) this Thursday Apr 12, Friday Apr 13 and Saturday Apr 14. All shows begin at 8 p.m. and doors open at 7:30. Tickets are $25 for general admission and students/seniors are $18. Tickets can be purchased online at https://www.capa.com/events/detail/anna-and-the-annadroids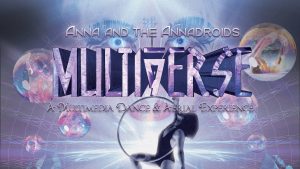 .
This production fuses athletic contemporary dance with graceful aerial arts, dramatic fashion design, powerful music, and surreal video environments. The show will touch on current scientific notions and theories concerning the nature and makeup of the universe, taking the audience on a journey that explores beyond the three dimensions we are familiar with and into a world of the unknown. Multiverse playfully explores ideas of parallel universes, time travel, black holes, and other scientific theories that reach farther than our present understanding of the universe. This show is fantastical, edgy, and emotional!
Multiverse will also feature an original comic book made to go along with the production. Illustrator, Uko Smith, who is a professor at Columbus College of Art and Design has joined the project to create this exciting component. It has been a dream of Artistic Director, Anna Sullivan, to include the element of illustrations that feature her Annadroid characters, so she is thrilled that it is in the works! The book will be sold at the show and it will offer the audience an illustrated version to guide them through the production.
Anna and The Annadroids is a multimedia dance and aerial company based bicoastally in Oakland, California and Columbus, Ohio. The company's unique fusion of intriguing choreography, graceful aerials, fashion, music, video technologies, and relevant concepts, relating to pop culture, appeals to audiences of all ages and interests.
Don't miss this amazing performance by the Anna and The Annadroids this weekend!
Tess Abney is a freelance writer who was born and raised in the Quad Cities. She spends most of her time attempting to successfully raise three boys. In her free time, writing is her passion. Whether it is sharing local events and businesses with readers or sharing her thoughts on life, she finds comfort in the way words can bring people together.