Hot Ribs and Cool Jazz at this Fest!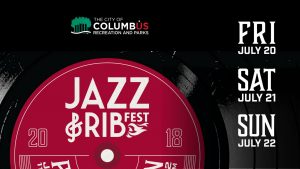 Hot Ribs, Cool Jazz: 2018 Headliner Announcement for Jazz & Rib Fest
(Columbus, Ohio) –Celebrate the arrival of summer with Jazz & Rib Fest, presented by the Columbus Recreation and Parks Department.  Returning for its 39th year to the Scioto Mile, two stages will showcase internationally renowned jazz artists and top local talent, while 23 award-winning BBQ teams serve up sizzling ribs, chicken and more. The aroma of hot ribs and sounds of cool jazz will fill the air on July 20 and 21 from 11 a.m. – 11 p.m., and July 22 from 11 a.m. – 8:30 p.m.  Admission is free.
Jazz & Rib Fest will offer a diverse line-up of artists ranging from soulful R&B to booming New Orleans style brass bands. Headlining performances for the 2018 Jazz & Rib Fest include:
Arturo Sandoval with special guest Jane Monheit:  Arturo Sandoval is a celebrated classical artist and composer who has been awarded 10 Grammy Awards, 6 Billboard Awards, an Emmy, the Hispanic Heritage Award and the Presidential Medal of Freedom. A multifaceted musician, he is an acknowledged virtuoso of jazz trumpet and flugelhorn, and just as dynamic and vivacious on the piano, timbales, vocals and keyboard. He delights in presenting a diverse and exhilarating show featuring Afro-Cuban Jazz, Be Bop, straight ahead Jazz and so much more.
Blessed with "a voice of phenomenal beauty" JaneMonheit has had plenty of milestone moments in establishing herself as one of today's best and most important vocalist-musicians. With her new album, The Songbook Sessions: Ella Fitzgerald—the first to be released on her own Emerald City Records—the Long Island native has surprised even herself with her artistic leap. On this new offering, Monheit pays tribute to Ella while sharing a definitive portrait of herself, guided by her producer, arranger and trumpet great, Nicholas Payton.
Dave Koz & Friends: Nine-time GRAMMY® nominee Dave Koz remembers the first record he ever purchased – Tower of Power's 1974 album, "Back To Oakland." It had a powerful impact on him, as his latest album, Summer Horns, shows. Teaming up with some of his most talented and trusted colleagues, Koz revisits the music that made him want to pick up the saxophone in the first place – classic tracks from Tower of Power and other brassy juggernauts that ruled the airwaves from the late 1960s through the '70s – bands like Sly & the Family Stone, Earth Wind & Fire, Chicago and Blood Sweat & Tears.
Koz will be joined by Gerald Albright, known for his acclaimed solo recordings and performances with Anita Baker, Whitney Houston and The Temptations; Rick Braun, chart-topping trumpeter, who has collaborated across genre's with Rod Stewart, Sade, and REO Speedwagon;  Richard Elliot, a former member of Tower of Power who has since forged a successful solo career;  Aubrey Logan known for jammin' on her trombone or sailing through a song with her nothing-held-back, multi-octave vocal instrument; and guitarist Adam Hawley, named both Smooth Jazz News and JazzTrax Debut Artist of the Year. Playing new songs from the forthcoming Summer Horns release as well as songs from their individual catalogues this live show is sure to be one of the Hottest shows this summer.
Dumpstaphunk: Dumpstaphunk stands out among New Orleans' best as one of the funkiest bands to ever arise from the Crescent City. Born on the Jazz & Heritage Festival stage, and descended from Neville family bloodlines, these soldiers of funk ignite a deep, gritty groove that dares listeners not to move. Their performances combine ingenious musicianship and complex funk and jazz arrangements with soulful melodies that are simple enough for anyone to enjoy.
Euge Groove & Peter White: Steven Eugene Grove, better known as Euge Groove, is an American smooth jazz saxophonist with a strong Top-40 background. Grove recorded his first solo album in 2000. Prior to that, he replaced Richard Elliot in the Tower of Power when Elliot decided to pursue a solo career, and did session work with various pop acts, most noticeably the Miami girl group Exposé.
Over the years, Peter White has maintained a reputation as one of the most versatile and prolific acoustic guitarists on the contemporary jazz landscape. Armed with an unparalleled combination of lyricism and energy, he combines elements of jazz, pop and classical guitar to create a sound that is singular and accessible to a broad audience.
The JuJu Exchange: With one foot in Jazz and the other in everything else, The JuJu is a musical partnership of childhood friends who came up through Chicago Public School music programs. Nico Segal, Julian & Everett Reid and Lane Beckstrom use The JuJu as a way to build off their past experiences in order to make a genre-bending style of music that looks to the future while dealing with the problems of the present. Drawing from hip-hop, jazz, classical and pop music, The JuJu will take you where anything is possible.
Ramsey Lewis: Ramsey Lewis has been an iconic leader in the contemporary jazz movement for over 50 years with an unforgettable sound and outgoing personality that has allowed him to cross over to the pop and R&B charts. Throughout his career, Lewis has joined forces with countless artists to create innovative music including Nancy Wilson, the London Philharmonic Orchestra and Dr. Billy Taylor.  In 1995, Lewis launched the side project Urban Knights, in which he collaborated with a handful of successful crossover jazz stars, including Grover Washington, Jr., Earl Klugh, and Dave Koz. Lately, he has been touring with Philip Bailey (Earth, Wind & Fire), John Pizzarelli and Dee Dee Bridgewater as well as doing dates in celebration of the 50th anniversary of "The 'In' Crowd."
For more information, visit www.hotribscooljazz.org.
Calendar Information – 2018 Jazz & Rib Fest
Date & Time:     Fri., July 20, 11 a.m. – 11 p.m.
Sat., July 21, 11 a.m. – 11 p.m.
Sun., July 22, 11 a.m. – 8:30 p.m.
Location:            Bicentennial and Genoa Parks on the Scioto Mile.
Information:     www.hotribscooljazz.org
Jazz & Rib Fest is presented by the Columbus Recreation and Parks Department and made possible through the generous support of ABC 6/ FOX 28, Bud Light, Sunny 95 (94.7 FM), LIVE! Technologies, The Color Run, Coca-Cola, COSI, Tonic Studios, LAZ and US Foods.
Tess Abney is a freelance writer who was born and raised in the Quad Cities. She spends most of her time attempting to successfully raise three boys. In her free time, writing is her passion. Whether it is sharing local events and businesses with readers or sharing her thoughts on life, she finds comfort in the way words can bring people together.