Visit Filmmakers at Wexner
It's not every day you have an opportunity to go to the movies and visit with the actual filmmaker prior to watching their finished masterpiece. It's not every day, but it is this Saturday at the Wexner Center for the Arts.
Make plans to attend the screening of Sollers Point, while visiting with the filmmaker, Matt Porterfield, this Saturday Jun 9 at the Wexner Center for the Arts (1871 N High St. Columbus). A reception in the lower lobby, with a live appearance from Matt, will happen from 6-7 p.m. The showing of Sollers Point will begin at 7 p.m.
Admission is $6 for members, students and seniors. The general public admission is only $8. You can purchase tickets in advance, online, at https://my.wexarts.org/single/psdetail.aspx?psn=321.
Over the last decade, Matt Porterfield has carved out a place as one of today's most distinctive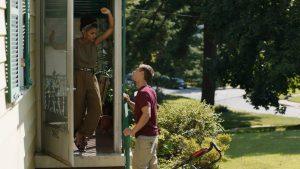 independent filmmakers. His previous features, often set in the northeastern Baltimore neighborhoods where he grew up, have been called "the real thing" by leading expert John Waters and "the most original, moving, and accomplished American independent films in recent years" by Richard Brody, longtime critic for the New Yorker.
Porterfield returns to the Wex to present his latest feature, which was supported in part by a Wexner Center Artist Residency Award. An authentic character study of a small-time drug dealer emerging from a nine-month house arrest, Sollers Point features a captivating lead performance by McCaul Lombardi (a memorable discovery from American Honey) and a terrific Jim Belushi as his watchful father. The film breathes fresh life into the classic scenario of a recovering criminal trying to find the right path while richly conveying the challenges (and limitations) of being free in working-class Baltimore.
Don't miss this first in the series of networking events for filmmakers and film professionals, hosted by the Wexner Center for the Arts and Film Columbus.
Tess Abney is a freelance writer who was born and raised in the Quad Cities. She spends most of her time attempting to successfully raise three boys. In her free time, writing is her passion. Whether it is sharing local events and businesses with readers or sharing her thoughts on life, she finds comfort in the way words can bring people together.