10 Fun Things To Do Week of June 21st: Fossils, Bob Hope, Live Music and MORE!
OnColumbus.com proudly presents our newest feature, FUN10, a list of the top 10 things to do in the Columbus this week, and every week! Every Sunday, we'll drop a new FUN10, to give you a head start on your week and a heads up on what's going on over the coming seven days. Check out FUN10 every Sunday for the details on ten awesome events happening around town. It's a cool read, and a great way to get started planning your entertainment for the week.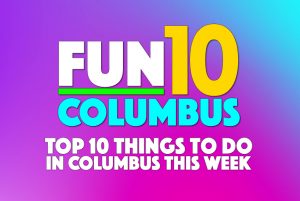 Due to the cancellation of so many regularly scheduled events in Columbus – with more coming in every hour – we're focusing this week's edition of Fun10Columbus on fun entertainment you can enjoy in the safety of your own home or while practicing safe 'social distancing' while the state begins to open back up.
FUN10 — ten ways for you to have fun in the Columbus, this week and every week, running every Sunday, only on your site for fun, free, local entertainment, OnColumbus.com!
So what's on the FUN10 for this week? Read on …
Virtual ComFest 2020
ComFest 2020 has gone virtual! Join the fun this Friday, Saturday & Sunday June 26-28th, 2020 online!
Hosted at https://www.comfest.com and on Community Festival's Facebook page.
Featuring performers, workshops, Street Fair vendors, Community Organizations, and a Program Guide for 2020
Join us starting at noon on Friday June 26th for Virtual ComFest 2020!
The first Community Festival in 1972 was organized by a group of newly-founded progressive community organizations: The Columbus Free Press, The Columbus Community Food Co-op, The Open Door Clinic, The Columbus Tenent's Union, Switchboard, and Rape Crisis Center, to name a few. We became known as ComFest: Party with a Purpose. Many of the organizations from that first ComFest have become important community mainstays.
Over the years, the festival has become popular in and beyond Columbus. Today, the Community Festival is a non-profit organization in and of itself, entertaining and exchanging ideas with people from all 50 states and visitors from other nations.
Live Music with Sirens: Molly Pauken and Kay Harris
Unwind this Friday night with a glass of wine and some great live music!
Molly Pauken and Kay Harris perform live this Friday Jun 26 from 7 – 9 p.m. at Wyandotte Winery (4640 Wyandotte Dr. Columbus).
For more information, please visit https://www.facebook.com/events/2454384974871699/.
Fossils from Ohio's Ice Age
Did we ever have saber-toothed tigers in Ohio?
What did Ohio look like during the Ice Age?
Where can you find evidence of the Ice Age in Ohio?
Geologists Andy Nash and Tyler Norris will take us back to the days when Ohio was one big ice-skating rink – most of the state was covered by glaciers! Ice Age animals such as mammoths, mastodons, and giant beavers roamed these lands for many years. Why did they go extinct? Tune in Tuesday Jun 23 at 10 a.m. to find out!
Do you have questions about the Ice Age? Ask Geologists Andy and Tyler during this LIVE, interactive episode of ODNR's #OhioRockTalks webinar series.
Level: Beginner
Audience: Middle School Children, Families, and Educators
Link for Webinar: https://teams.microsoft.com/l/meetup-join/19%3ameeting_ZjFhOTQzOTAtYWMxNy00NGEwLWFkZTAtNzY1M2IxOTI5NDQ5%40thread.v2/0?context=%7b%22Tid%22%3a%2250f8fcc4-94d8-4f07-84eb-36ed57c7c8a2%22%2c%22Oid%22%3a%22db3f9428-f7b2-4fd0-92c8-dfea89ae7431%22%2c%22IsBroadcastMeeting%22%3atrue%7d
The webinar will be recorded and available for later viewing.
New to Teams Live? Check out this Teams Live overview from Microsoft (https://support.office.com/en-us/article/attend-a-live-event-in-teams-a1c7b989-ebb1-4479-b750-c86c9bc98d84).
NOTE: If you're attending the live event on the web, Safari is not currently a supported browser for Microsoft Teams. Supported browsers include Chrome, Firefox, Edge, and other media-source extension (MSE)-enabled web browsers.
Hoodoo Soul Band Live at Natalie's
Hoodoo Soul Band returns to Natalie's Grandview (945 King Ave. Columbus) this Friday Jun 26 at 7 p.m.! Due to COVID-19, tables will be sold instead of individual seats, and guests are requested to wear masks when not seated.
Hoodoo Soul Band began as a side project for several seasoned veterans of the Columbus music scene who wanted an outlet to play funk and r&b with a horn section. In January of 1995, these players started a weekly residency at Oldfield's on High and it quickly became "the place to be" for Columbus, Ohio music scene junkies. In 2008, the group found a new home for their residency at Rumba Cafe on Summit Street, and their loyal crowd followed.
Primarily a cover band, Hoodoo is known for curating a unique set list while giving each song their own original treatment. The players effectively deconstruct soul standards on the fly, improvising new arrangements in front of the crowd, and introducing audiences to funky, unfamiliar gems that quickly become favorites. Most of the group is still made up of the original members but new blood has been introduced over the years. At any given show, the line up may change with only the very best players in the city subbing in. The focus is music and the standards are high. Hoodoo Soul has also been direct support for world-class acts passing through Columbus, such as Parliament and Ray Charles, among many others.
For more information, please visit https://www.facebook.com/events/2663311527107142/.
The Great Green Lawn Abbey Yard Sale
Treasures, treasures everywhere! Our items are donated from people and organizations all over the city so you never know what you'll find.  Drive your car with the largest trunk (or a van would be nice) and come see us on Saturday, June 27, from 10 AM – 2 PM.  We have decorative items, housewares, tools including some electric tools that look brand new, vintage items, Christmas items, tons of books and music CDs like crazy!   We have costume and some real vintage jewelry, several kids strollers, at least 4 bicycles of various sizes, dressers and bookshelves, dart boards, framed pictures and some vintage posters, toys and games.  Visit our Facebook page for posting of some of the items starting in early June.
WE WILL MONITORING CORONA VIRUS RESTRICTIONS.  PLEASE CHECK BACK SHORTLY BEFORE THE EVENT TO CONFIRM IT HAS NOT BEEN RESCHEDULED.  We plan to have the yard sale outdoors in the sunshine and ask people to respect social distancing.  In case of rain, check our Facebook page for updates.
To donate items, contact us at greenlawnabbey@gmail.com
All proceeds go to the restoration of Green Lawn Abbey, a National Register of Historic Places landmark. Looking forward to seeing you there!
Alan Carl Live at Flannagan's Dublin
Craving some live music?
Alan Carl (full band) performs live at Flannagan's Dublin (6835 Caine Rd. Columbus) this Saturday Jun 27 at 7 p.m.
For more information, please visit https://www.facebook.com/events/477593252905974/.
So Ready for Laughter: The Legacy of Bob Hope
So Ready for Laughter: The Legacy of Bob Hope opened January 31 for its first appearance outside The National WWII Museum in New Orleans, where the exhibition originated.
Bob Hope holds a unique place in WWII history and beyond. This exhibit highlights how he helped lift the human spirit during one of the darkest times in American history. Supported by national tour exhibit sponsor, the Bob & Dolores Hope Foundation, So Ready for Laughter explores Hope's major tours and travels during World War II featuring nearly 50 artifacts and includes an original 11-minute documentary produced by award-winning filmmaker, John Scheinfeld.
Highlights include rare and unpublished photographs of Hope; wartime correspondence between Hope and servicemembers; WWII-era relics engraved to Hope; videos of his travels, wartime troupe and Hollywood Victory Caravan programs and scrapbooks.
By the start of World War II, Hope was just emerging as one of America's most popular radio and film stars. Hope's work gained new meaning when he took his wartime programs on the road to military camps and bases, inspiring other entertainers to join him.
So Ready for Laughter will be on view through Labor Day. Support provided by the Greater Columbus Arts Council.
For more information, please visit https://www.facebook.com/events/649734582535052.
The Pretty Filth Rocks Harry Buffalo
The Pretty Filth will be rockin' ALL your FAVORITE 80's out on one of the biggest and best patios in town, Harry Buffalo!
Join The Pretty Filth at Harry Buffalo (6150 S Sunbury Rd. Westerville) this Saturday Jun 27 at 8 p.m. for all your live music needs.
For more information, please visit https://www.facebook.com/events/702904000492177/.
theJACK Live
There's no doubt about it, live music is back in Columbus!
theJACK performs live this Saturday Jun 21 from 8 p.m. – 12 a.m. at The Point on Main Street (1192 Noe Bixby Rd. Columbus).
One of Central Ohio's longest running rock-n-roll party bands, theJACK has been on the club scene for over 20 years.  Not just any ordinary gathering of musicians, each of the guys are top performers who are individually well-respected in the music community and masters of their instruments.  When combined, their individual talents result in a powerful show with a large-concert feel, songs mixed together and organized in rapid-fire succession creating an energetic party atmosphere. theJACK doesn't just play a list of songs one after the other, they make it a concert, a show, an event worth remembering.
For more information, please visit https://www.facebook.com/events/294428975034119/.
Paint Pour Workshop at Nest Creative!
Join The Nest Theatre (2643 N High St. Columbus) this Sunday Jun 28 from 1 – 2:30 p.m. for a Paint Pour Workshop!
Want to try a paint pour? Paint pouring is easy art – relaxing and creative, a little zen, and beautiful. None are exactly the same, and that's the fun! We provide all tools and paints and a painting station for each participant.
Doors open at 12:50pm, we start learning and painting with artist Bethanie Anne at 1pm. 1-145pm we'll create together (and have a glass of wine if you like on us)! Once we've created our two pieces, from 145-230pm we'll send you to grab a drink or slice of pizza from HoundDogs, and then you'll return at 230pm to carefully take your art home! Each artist will leave with 2 8×10 canvases.
Creating this kind of art can be messy, so wear something comfortable and casual. Join us for the fun on a Sunday afternoon. Spots are limited!
For more information, please visit https://www.facebook.com/events/1449204791910008/.
Stay tuned to OnColumbus.com, your site for fun, free, local entertainment for upcoming events in our weekly column, FUN10, every Sunday!
#Fun10Columbus
Tess Abney is a freelance writer who was born and raised in the Quad Cities. She spends most of her time attempting to successfully raise three boys. In her free time, writing is her passion. Whether it is sharing local events and businesses with readers or sharing her thoughts on life, she finds comfort in the way words can bring people together.