10 Fun Things To Do Week of May 10th: Dancing, Cocktails, Painting and MORE!
OnColumbus.com proudly presents a brand-new new feature, FUN10, a list of the top 10 things to do in the Columbus this week, and every week! Every Sunday, we'll drop a new FUN10, to give you a head start on your week and a heads up on what's going on over the coming seven days. Check out FUN10 every Sunday for the details on ten awesome events happening around town. It's a cool read, and a great way to get started planning your entertainment for the week.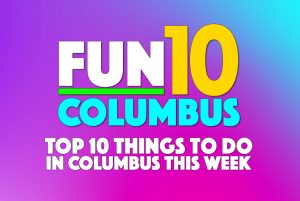 Due to the cancellation of so many regularly scheduled events in Columbus – with more coming in every hour – we're focusing this week's edition of Fun10Columbus on fun entertainment you can enjoy in the safety of your own home or while practicing safe 'social distancing'.
FUN10 — ten ways for you to have fun in Columbus, this week and every week, running every Sunday, only on your site for fun, free, local entertainment, OnColumbus.com!
So what's on the FUN10 for this week? Read on …
Discover Columbus State Week
Join Columbus State Community College May 11-15 for Discover Columbus State Week, a series of live virtual events for prospective students and their parents. College leaders, faculty, staff, and students will host live webinars on everything you want to know about Columbus State, including how we can help you take the next step toward your education and career goals.
More than just a presentation, these sessions include live Q&A so you can discover your next opportunity at Columbus State. Throughout the week you will:
– Hear from our professors about in-demand degree programs and career tracks, as well as the remote learning experience
– Talk with our Admissions and transfer experts about pathways from Columbus State to the four-year college or university of your choice
– Take a virtual campus tour of our Downtown campus, and learn more about our Delaware campus and six regional learning centers
– Discover accelerated certificate programs and learn-and-earn degree programs that can help advance your career quickly and affordably if you're unemployed or underemployed
– Learn how college can be affordable for everyone with the help of Columbus State
Browse the schedule to see all the events: https://www.cscc.edu/admissions/events/discover-cs-week.shtml
We will keep adding sessions as plans for the week progress, so check back often!
Registration Link: https://columbusstatecc.radiusbycampusmgmt.com/ssc/eform/EEN75nx80C6G0x670wB3F.ssc
Virtual Dance Lessons Every Monday
Have two left feet? No rhythm? No partner? Need to get up and moving? This is the perfect intro dance class for you!
Join Colton, with Black Diamond Ballroom Dance Company, every Monday at 8:30 p.m. for a Virtual Dance Lesson on the Virtual Dance Club Facebook Page.
Join the Virtual Dance Club here:
https://www.facebook.com/groups/virtualdanceclub/
Humorist John Moe and Jen Kirkman Come to You Virtually
Join Thurber House in welcoming humorist John Moe and special guest Jen Kirkman for a literary ZOOM event on Wednesday May 13 from 7 – 8:30 p.m. This event will conclude with a question and answer session and the opportunity to purchase a signed book that will be shipped to you.
ABOUT THE BOOK AND AUTHOR
John Moe is a critically-acclaimed public radio personality and the host and creator of the award-winning hit podcast, The Hilarious World of Depression. For years, Moe struggled with depression; it plagued his family and claimed the life of his brother in 2007. As Moe came to terms with his own illness, he saw similar patterns of behavior and coping mechanisms in others, including high-profile comedians who'd struggled with the disease.
Inspired by the success of his podcast, Moe has turned The Hilarious World of Depression into a book—part memoir of his own journey, and part treasure trove of laugh-out-loud stories and insights drawn from years of interviews with some of the most brilliant minds. Throughout this powerful narrative, depression's universal themes come to light: struggles with identity, lack of understanding of the symptoms, the challenges of work-life, self-medicating, and more.
FEATURING A SPECIAL GUEST APPEARANCE: Jen Kirkman is a comedian, NYT-bestselling author, television writer, and actor. She is a WGA award winner for her work on the Amazon Prime series The Marvelous Mrs. Maisel and has written for various sitcoms and late-night shows. Jen has appeared on Lights Out with David Spade, The Late Show with Stephen Colbert, The Tonight Show with Jay Leno, The Late Late Show with Craig Ferguson, and more. >> www.jenkirkman.com
VIP PRE-EVENT 6:00–6:45 PM EST
Join us for a VIP pre-event with John Moe from 6:00–6:45 pm EST on Zoom! The VIP pre-event is a great opportunity to meet the author "face to face" and have a discussion in a small group setting. Capacity is limited.
MAIN EVENT 7:00–8:00 PM EST
John Moe will discuss his latest book, The Hilarious World of Depression, inspired by his podcast of the same name. Guest Jen Kirkman will make a special appearance. The event will conclude with a question and answer session during which John will take questions from the audience.
More information: http://www.thurberhouse.org/special-events/john-moe
Global Innovation Field Trip Goes Worldwide
The world is changing and education must change with it. The Global Innovation Field Trip is The GIFT that will enable you to do that. Join in on this inaugural, on-line, 24-hour, multi-country collaboration, celebrating young innovators and those who educate, inspire and sponsor innovation.
Sign up to watch this invitation-only, one of a kind event. Global Innovation Field Trip will send you the 24-hour live-stream link. http://globalinnovationfieldtrip.org/attendee-registration/
For more information, visit http://globalinnovationfieldtrip.org/.
Virtual Classes at Pinot's Palette
Enjoy the Pinot's Palette experience from the comfort of your home! Register for one of their live, virtual events. The studio's artists will guide you step-by-step through the project. The experience is completely interactive – you'll be able to ask the artists questions throughout the event.
If you cannot join at the scheduled time, the class is recorded for your convenience and will be available for 4 days following the scheduled live class.
How Does it Work?
You will receive a paint at home kit that includes a 16×20 inch canvas, paint brushes, paint, disposable apron, water cup, palette plates, paper towels and a link to join the live interactive class from home.
1. Reserve your seat online
2. Pick up all the supplies you need from our studio by appointment. You name the time and we will meet you curbside. We are also able to deliver within 10 miles OR ship across the US for an additional fee.
3. Using your computer, tablet or phone, login to the live stream painting class a few minutes before scheduled start time..
4. Turn on your favorite music and pour a glass of your favorite beverage while we Paint. Drink. Have Fun!
Check out this week's class selection:
Tuesday May 12
7 p.m. Apricot Roses
Wednesday May 13
7 p.m. Aurora Nights
Thursday May 14
7 p.m. Japanese Spring
Friday May 15
3 p.m. Anime Eyes
6:30 p.m. Sunflower Dance
7 p.m. Majestic Fairytail
Saturday May 16
4 p.m. Dressed to Frill
6:30 p.m. Cute Shaggy Cow
Sunday May 17
1 p.m. Water Lillies at Morning
4:30 p.m. Manet's Lilac's in a Glass
Stay Home Cocktail Club with Echo Spirits Distilling Co.
The Stay Home Cocktail Club with Echo Spirits Distilling Co. is now in its 8th week! This week will focus on 'Flavor Theory'.
From flavors that work well together to how to make sure your cocktail translates from paper to glass, join Echo and their guest bartender, Annie Williams Pierce from lawbirdbar as they talk about how to start making your own creations at home.
Link to class: https://www.crowdcast.io/e/esshccw8
Tip your bartender (Venmo)
Featured non-Echo distillery: Endeavor Brewing & Spirits
Cocktail recipes and shopping list to be posted the Monday evening prior to the class.
For more information, visit https://www.facebook.com/events/709308013147478/.
Virtual Workshop Hosted by 934 Gallery
Join 934 Gallery for a free virtual workshop with Red Thread artist Emma Brown on Saturday May 16, at 1 p.m. on Zoom. Only 15 spots available. Please secure your spot: https://redthreadworkshop.eventbrite.com
Emma will be working with participants to create a life resume. Art supplies encouraged but not required. Just bring your creativity and an open mind.
Please consider supporting 934:
Donate – https://bit.ly/give934
Cash App – $934Gallery
Venmo – @ninethreefourgallery
2020 exhibition season funded in part by Greater Columbus Arts Council and Ohio Arts Council.
Haus of Mess Presents: Quarantine! The Pathetic Opera!
Join Haus of Mess on Facebook and Instagram live to see their monthly show back in action!
All of your Haus favorites will be there!
Starring:
Envy Mwah
Mercy Mwah
Kat'Atomic Conquers
Roxy Nikole
Hosted by Matriarch and Gilda Wabbit
For updates, including new performers, visit https://www.facebook.com/events/248985759551939/.
Metro Girl Up 2020 Global 5k
Save the date for the Metro Girl Up 2020 Global 5k! With the COVID-19 pandemic, they cannot host the Doughnut Dash this year, but join Metro Girl Up Club on Saturday May 16 by running in your neighborhood, at home on your treadmill, or wherever you wish.
All it takes is three simple steps:
1. Create a fundraising page and join Metro Girl Up's team page
2. Run at home on your treadmill, in your neighborhood, or wherever you wish on May 16.
3. Consider donating!
For more information, visit https://fundraise.unfoundation.org/team/293363 or https://www.facebook.com/events/536137887333008/.
Green Lawn Cemetery Historical Bike Tour
Outdoor Pursuits has partnered with the Green Lawn Cemetery Association to offer guided tours of Green Lawn Cemetery this Sunday May 17 at 2 p.m. The bike tour is narrated by naturalist and historian Randy Rogers. It's a great way for the casual cyclist to learn about the rich history contained in this large, iconic cemetery.
The tour will begin and end in front of the Green Lawn Abbey, just a short distance away from the cemetery. NOTE: This tour is largely outside and can be conducted safely with adequate social distancing and safety precautions throughout. Please feel free to bring a face mask if you desire.
Green Lawn Cemetery is one of the oldest and largest cemeteries in Ohio. The cemetery represents a vast treasure, encompassing more than 200 years of history and is the resting place of many prominent Columbus residents. The tour will stop at several locations for informative talks about notable graves, monuments, family mausoleums, and the Huntington Chapel, to name a few. The cemetery is also home to 150 species of trees and several state champion trees, as well as a recognized bird sanctuary.
Columbus Outdoor Pursuits can provide easy-to-ride cruiser style bikes and helmets, or you may bring your own bike and helmet (please indicate on the registration). Please allow about 2 hours for the entire tour. Free parking at Green Lawn Abbey, 700 Greenlawn Avenue — the start and end point of the tour. If weather conditions do not permit a safe trip, we will reschedule or provide you with a full refund.
A portion of your registration fee is donated to the Green Lawn Cemetery Association.
For more information, visit https://www.facebook.com/events/2825646857471692/.
Stay tuned to OnColumbus.com, your site for fun, free, local entertainment for upcoming events in our weekly column, FUN10, every Sunday!
#Fun10Columbus
Tess Abney is a freelance writer who was born and raised in the Quad Cities. She spends most of her time attempting to successfully raise three boys. In her free time, writing is her passion. Whether it is sharing local events and businesses with readers or sharing her thoughts on life, she finds comfort in the way words can bring people together.