10 Fun Things To Do Week of May 17th: Sports, Stitching, Music and MORE!
OnColumbus.com proudly presents a brand-new new feature, FUN10, a list of the top 10 things to do in the Columbus this week, and every week! Every Sunday, we'll drop a new FUN10, to give you a head start on your week and a heads up on what's going on over the coming seven days. Check out FUN10 every Sunday for the details on ten awesome events happening around town. It's a cool read, and a great way to get started planning your entertainment for the week.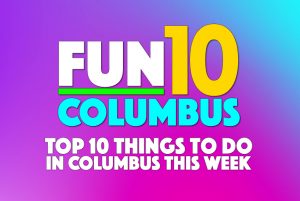 Due to the cancellation of so many regularly scheduled events in Columbus – with more coming in every hour – we're focusing this week's edition of Fun10Columbus on fun entertainment you can enjoy in the safety of your own home or while practicing safe 'social distancing'.
FUN10 — ten ways for you to have fun in the Columbus, this week and every week, running every Sunday, only on your site for fun, free, local entertainment, OnColumbus.com!
So what's on the FUN10 for this week? Read on …
The Disaster Sports Show
Join The Disaster Sports Show for Episode 2: Ten Cent Beer Night, on Monday May 18 at 8 p.m.
This show's panelists include:
Dan Loper
Chris Fenner
Jeff Burgstrom
Johnny Philips and
Tom Plute
Visit https://www.facebook.com/events/975061509616661/ for more information.
May Exhibition with Michael Kaiser
Sherrie Gallerie is proud to introduce our May exhibition with Michael Kaiser!
This exhibition is viewable online at www.sherriegallerie.com/michael-kaiser
The show will also be installed at the physical gallery location, 694 N High Street Columbus. Curbside pickup and delivery of artwork is available!
Watercolor artist Michael Kaiser is interested in painting the emotion he feels when observing nature. Painting in watercolor provokes a spontaneous outpouring of ideas that he articulates into a composition.
Techniques such as bleeding, blockout, salt, scrubbing, and lifting of paint help realize this vision.
Follow Sherrie Gallerie and the Short North Arts District on social media to participate!
Happy Hour Porch Sessions with COVAID Live
Join COVAID Live, online, for Happy Hour Porch Sessions every Tuesday and Thursday at 6:30 p.m.!
This week's guests include:
Tuesday May 19 – Ryan Sullivan
Thursday May 21 – Tryangles
Originally, COVAID Live was going to be a 24-hour live streamathon featuring musical and comedic performances by many popular Columbus artists. Due to social distancing mandates (we all want people to be safe!) they have had to pivot a bit. They are now hosting Front Porch Happy Hour performances produced by Shaw House Productions every Tuesday and Thursday. Donations received through this event will go directly to the GCAC COVID-19 Emergency Relief for Artists fund established to benefit professional artists in Franklin county Ohio.
Virtual Tuesday Stitch Group with Cross My Heart
Although Cross My Heart (1141 Kenny Centre Mall Columbus) is currently closed and in-house stitch groups are suspended, that doesn't mean we can't stitch together – separately!
Join Cross My Heart every Tuesday morning at 11 a.m. for a Virtual Tuesday Stitch Group!
Log into https://www.gomeet.com/862-146-824 Tuesday at 11 am. If you are asked for a pin, the number is 5499936#
For system requirements and how to join and navigate the Virtual Stitch Group, please go to http://cp.serverdata.net/kb/article/38962.
Exploring the Antarctic with Dr. Chris Gardner
The Columbus Science Pub travels south – WAAAYY south – with Dr. Chris Gardner, a geochemist with the Byrd Polar and Climate Research Center at The Ohio State University!
Join the Columbus Science Pub and STEAM Factory for Exploring the Antarctic with Dr. Chris Gardner this Thursday May 21 at 7:30 p.m.
To register for this event, go to https://shadowboxlive.secure.force.com/ticket/. Use the code "getnerdy" if you want to zero out the suggested $10 donation and add your own amount. All proceeds benefit their amazing partners at Shadowbox Live.
Growing up in northeast Ohio, Dr. Chris Gardner never thought his research would take him to the ends of the earth. But in 2004 he found himself in a helicopter leaving McMurdo station for the Dry Valleys of Antarctica. Chris is a geochemist in the School of Earth Science and Byrd Polar and Climate Research Center at The Ohio State University. He looks at how the chemistry of runoff from melting glaciers effects the ocean and possibly global climate. Join him on a (virtual) adventure to the biggest ice free area in the Antarctic to discover for yourself how scientists collect data that informs our climate models for the future.
Live @ Forum Fridays
The Forum Columbus + Run614 are teaming up every Friday to bring you some sanity through music until we return to some sort of normal.
#ThatVirtualPartySavedMySanity
TUNE IN at ForumColumbus.com & click on live stream
They will also being taking orders for to-go cocktails with prepped meals. Details TBA
(No loitering will be allowed)
May 15th
7pm – Aaron K
8pm – Bockoven
9pm – Aaron Austen
10pm – Entel
11pm – DJ B-Funk
May 22nd
7pm – PUSH Productions
8pm – T Rexx
9pm – GVNR
10pm – Mister Shifter
11pm – Blue Productions
***Covid-19 Disclaimer***
The Forum and Run614 team continue to closely monitor the COVID-19 outbreak. The safety and well-being of each and every one of our staff and team members remain our absolute top priority. We are and will be actively doing everything possible to keep them safe.
In accordance with CDC guidelines and recommendations from local public health officials, we have implemented additional sanitation measures. We are actively taking every possible action necessary to double down on our already high standards of staff and venue cleanliness.
All performers will be practicing social distancing and cleanliness. Disinfecting wipes and sanitizer will be used by all of the Performers and staff.
For more information, please visit https://www.facebook.com/events/2613793835557034/.
World Goth Day Columbus Bicycle Ride
World Goth Day is Friday May 22nd.
Join Columbus Goth Cycling for the second annual Columbus Goth Ride! This year they are requiring masks for anyone who wants to ride as a group, while hoping that anyone maintaining physical distance will dress up and bike on their own and share with us under the hashtag #WorldGothDayColumbus . Solitary virtual riders welcome! This is definitely a good year to dress up in some all-out Cybergoth, or maybe you have a masked costume you'd want to wear! You could even dress up your bike to enforce distance (black painted pool noodle viking ship, anyone?)
This will be a flat, relaxed group ride through downtown – open to all people of all abilities, with a couple of rest stops to hydrate, take pictures, or whatever else you desire. We will use streets with bike lanes or that are bike-friendly.
We will meet near the Goodale Park Gazebo at 6:15, and will be stepping off on our fun & fashionable tour through downtown by 6:30pm. We will return to Goodale Park, so coordinating parking or pickup is easier.
Dress up in the finest fripperies your dark heart desires! Bring bluetooth speakers and play your gothic favorites while we ride! Bring a camera! Bring a pet monkey in a basket! Let us show the capital city our style!
This is a free event so dress up and have fun being outrageous in public!
The World Goth Day site is here: http://worldgothday.com/index.html
Work On Your Rhythm Virtually with ConfiDance
Have you always wanted to work on your Latin rhythm? Well here is your opportunity!
ConfiDance is now hosting online virtual classes! You can join them for 'Style & Technique: Rhythm/Latin' this Friday May 22 at 7 p.m.
The Rhythm Ballroom Dance Tips class will cover techniques to help you dance with more ease of movement. You will be introduced to exercises and basic techniques for Cha Cha, Rumba, Swing, Bolero, Salsa.
For more information, please visit https://zoom.us/webinar/register/WN_HIqhoa2gTTqxIJ9M0xRNjQ.
National Veterans Memorial and Museum Virtual Run/Walk
Join in across the nation for the National Veterans Memorial and Museum Virtual Run & Walk to honor and remember those men and women who made the ultimate sacrifice.
Honor Them Together. The National Veterans Memorial and Museum's virtual 1 mile, 5k, and 10k run and walk is a family event to honor America's lost heroes, all servicemen and servicewomen, who died defending our country's safety and freedom. The event features options to run or walk 1 mile or 5k in honor of a lost loved one in your own life or 10K (6.2 miles) to honor those lost from all 6 branches of service.
I Will Always Remember. In honor of those lost, we encourage you to complete your run or walk during Memorial Day Weekend May 22 – 25, 2020.
We invite everyone nationwide to take part in this 2020 Memorial Day commemoration by sharing who you will never forget. Whether you're honoring one lost loved one or honoring all the brave service members who died serving our country, we encourage you to use #WeHonorThemTogether and @nationalvmm to share photos, your location, and stories of your participation as well as those being remembered. The National Veterans Memorial and Museum team will not only be monitoring and highlighting the participation across the nation but also the names, ranks, and branches of service of those being honored by their friends and family during this time.
Note, this is a virtual race. Register on or before May 18, to receive your event shirt and items prior to Memorial Day Weekend. If you register between May 19 – 25, we will be mailing items daily but cannot guarantee you will receive them before May 22. We want you to proudly wear your shirt during your run or walk. Encourage your friends and family to participate too! Register today!
Death Café with Megan Fiscus
Join WitchLab on Sunday, May 24th, from 6 pm until 8 pm for our next **ONLINE* Death Cafe! This event is designed to provide an open forum for discussion and more. The cafe will begin with a brief meditation to bring everyone into the space and prepare for discussion. Being present for the meditation is not mandatory but can help to ease your mind. Meditation will be followed by a discussion based around a death related topic. Though a topic is presented at the beginning of the evening, it may evolve over the course of two hours. This will be a safe space free from judgment and supportive of your perspective.
THIS WILL BE AN ONLINE EVENT HOSTED ON ZOOM. Links will be sent out in an email prior to the class taking place.
Our event will be lead by Megan Fiscus. She is a yoga instructor and meditation teacher specializing in restorative yoga and Tantra. Attending death retreats and cafes and giving lectures and workshops on death has given Megan a unique appreciation for all perspectives about death. She is death positive, and actively works to promote a more positive and open view of death as a natural part of life.
PLEASE NOTE: Tickets are non-refundable. There will be no physical tickets sent out. After purchase your name will be added to the class list and you will receive an email confirmation. PLEASE include your email during checkout to ensure that you will receive the link for the class!
Stay tuned to OnColumbus.com, your site for fun, free, local entertainment for upcoming events in our weekly column, FUN10, every Sunday!
#Fun10Columbus
Tess Abney is a freelance writer who was born and raised in the Quad Cities. She spends most of her time attempting to successfully raise three boys. In her free time, writing is her passion. Whether it is sharing local events and businesses with readers or sharing her thoughts on life, she finds comfort in the way words can bring people together.