10 Fun Things To Do Week of May 31st: Live Music, Races, Markets and MORE!
OnColumbus.com proudly presents our newest feature, FUN10, a list of the top 10 things to do in the Columbus this week, and every week! Every Sunday, we'll drop a new FUN10, to give you a head start on your week and a heads up on what's going on over the coming seven days. Check out FUN10 every Sunday for the details on ten awesome events happening around town. It's a cool read, and a great way to get started planning your entertainment for the week.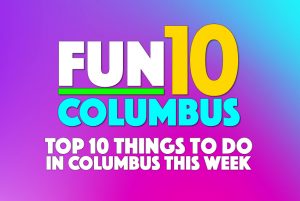 Due to the cancellation of so many regularly scheduled events in Columbus – with more coming in every hour – we're focusing this week's edition of Fun10Columbus on fun entertainment you can enjoy in the safety of your own home or while practicing safe 'social distancing' while the state begins to open back up.
FUN10 — ten ways for you to have fun in the Columbus, this week and every week, running every Sunday, only on your site for fun, free, local entertainment, OnColumbus.com!
So what's on the FUN10 for this week? Read on …
Ridge Runner Ramble "Ride on Your Own" 2020 Bike Tour
Join Columbus Outdoor Pursuits, beginning this Monday Jun 1 for Ridge Runner Ramble "Ride on Your Own" 2020 Bike Tour!
This year, we are offering 4 different route options in Central Ohio, each with your choice of length (short, medium, and long). The routes are being mapped by our partner, Columbus Outdoor Pursuits, who carefully plans the routes to ensure they are fun and safe for everyone.
To allow for social distancing we encourage cyclists to complete their ride anytime between June 1-7 and to keep their groups to 5 or fewer.
The 4 different routes to choose from will start in these Central Ohio communities:
Dublin
New Albany
Canal Winchester
Grove City
Looking to participate but want to include the family on a shorter ride? This year we are including a Family Neighborhood Ride option for a donation of $25/family. Take the kids around your neighborhood/community wearing your race bibs and matching shirts/jackets and spread awareness about #cyclingtoendhomelessness!
Every registrant will receive a thank you kit including some special goodies and…
A race bib for each registrant (pin this during your ride to raise awareness for the cause!)*
A yard sign (optional selection during registration)*
A GPS link and PDF printable route map (both emailed to registrant by May 31)
We are asking registrants to take pictures and share your experience when riding and post to social media with the hashtag #CYCLEFORHFF and tag @homelessfamfdn so we can see the fun you're having!
Proceeds from Ridge Runner Ramble benefit The Homeless Families Foundation and the over 500 families we annually serve in the Central Ohio community.
Registration open until June 5th at noon.
For more information, please visit https://www.facebook.com/events/836997076761874/.
Virtual Lung Force Run/Walk
During the whole month of June, June 1st – June 30th, the American Lung Association of the Midland States encourages you to join us as we come together to raise our voice for lung health! This Run/Walk will be a virtual event. Run or walk outdoors to one of the beautiful trails throughout Columbus. Same mission, just different scenery!
Register today for $25! You will receive a virtual participant bib and finisher's medal.
Start a team: www.lungforce.org/columbus
Together, we can defeat lung cancer and lung disease one step at a time.
#LUNGFORCEColumbus
For more information or to partner with us, please email: Brittany.Sinzinger@lung.org
Virtual Trivia True Crime
Join Excesss Trivia and MadLab for Virtual Trivia True Crime this Tuesday Jun 2 at 8 p.m. Questions will be about True Crime – Serial Killers, Missing People, Unsolved Mysteries, Famous Crimes, etc.
Other basic details from our previous nights still apply.
— $6 minimum donation gets you access to the trivia, which goes to support the MadLab as well as provide prizes for the top three winners.
— Funds can be delivered via Venmo: wraithmistress or CashApp: $MarianneHDean. If using CashApp, PLEASE also send me a direct message on here or another medium to get your trivia access code!
— You will need to access both the trivia and streaming platforms. Follow me (wraith_mistress) on Twitch.tv for the live stream and chat! If you will be playing from a tablet or phone, you will want access to a second screen for the live stream. If you have not already done so, you can create a free account on myquiz.org to be ready to play on Tuesday. Again, the live stream is not only a part of the overall experience but also will be essential for some of the trivia! Plus, the live chat helps keep us social even while distancing!
— If you are isolating with someone else or want to team up with others, go for it. Multiple people can access the same player account for trivia, just be aware that the first response received will be the one that gets counted.
— There is a 100 player limit. If you are playing as part of a team, the team counts as a single player. Players are considered confirmed once payment is made.
For more information, please visit https://www.facebook.com/events/272097287266226/.
Family Friendly First Fridays
Just because we're all at home, doesn't mean we can't still have Family Friendly First Friday!
Join The Rambling House every Friday night at 6 p.m. for Family Friendly First Fridays, brought to you by Musicologie.
For more information, please visit https://www.facebook.com/events/529678167927427/.
Food Truck Fridays at the House
It's the first Food Truck Friday at the Ronald McDonald House for 2020!
Friday Jun 6 kicks off the fifth year of this summertime tradition! Every Friday for lunch, we have two of Central Ohio's best savory food trucks and one of Columbus' best dessert trucks at our House! For our first FTF at the House this summer, we have The Paddy Wagon Food & Roosters Road Show with Graeters614 Ice Cream truck!
Click here to see the trucks coming to the House on Fridays and look for the button to order ahead when it's almost 11 a.m. every Friday: https://streetfoodfinder.com/RMH. Send yourself a reminder! You can now subscribe to email updates for Food Truck Fridays at the House through this link!
These can be stressful times and we hope the return of food trucks to our House helps to provide some stress relief rolling into the weekend. To minimize stress of those around you at FTF, please order ahead through the Street Food Finder website/app or the truck's online ordering system to avoid waiting at the trucks. Also, we ask that you please remember to wear your mask to be considerate of the food truck workers, other customers, and our families who have children & babies in area hospitals. Of course, we also remind you to keep at least 6-feet from others when coming to pick up your order. Unfortunately, we will not be providing seating this year for the safety of the food trucks' customers.
With so many of our fundraisers having to be canceled or postponed this summer, we truly thank you for helping to support the Ronald McDonald House by coming to get grub on Fridays for lunch. Trucks pay a parking fee & give us 10% of proceeds during FTF.
Flannagan's Dublin presents Chris Logsdon Live in Concert
Don't miss Flannagan's/Chris Logsdon COVID coming out party this Saturday Jun 6! Doors open at 7 p.m. and the show starts at 8 p.m. This is a 21+ event (ID is required).
Purchase Tables: https://flannagans.com/chris-logsdon/
~ Chris Logsdon Live; BIG outdoor sound system!!
~ Largest outdoor patio in Columbus; for this concert…
~ We have 35 tables w/6 chairs – all PROPERLY socially distanced
~ We ALSO have SEVEN cabana's that hold up to 10 people
~ All tables sold online in advance
~ When you purchase your table; 6 tickets will be in "will call" in your name
~ Tables in each section will be assigned on a "first purchased" basis; each purchaser getting the next best table in that section.
~ Table chart and online purchasing click link below:
https://flannagans.com/chris-logsdon/
Questions? Email Serena: serena@flannagans.com
This is a ticketed event only. You must be a ticket holder, or guest of a ticket holder to gain entry.
Each table will provide 6 chairs
Please see the table seating chart at https://flannagans.com/chris-logsdon/ for details.
Please help us achieve social distancing. We ask that there is no dancing, that people stay 6ft apart and remain seated at their tables.
*A portion of ticket sales will benefit The DVS Foundation focusing on mental health.
Rain or shine. No refunds. Reselling of all tickets is prohibited.
Eclectic Auction with Garth's Auctions
Garth's Auctions Eclectic Auction features hundreds of lots of furniture including Victorian, Country, Hepplewhite, Sheraton and more, Toys, Jewelry, Currency, Glass, Art Pottery, Stoneware, Silver, Textiles, Fine Art & Prints, and more!
Saturday, JUNE 6, 2020
begins at 10 AM
Remote bidding available. Absentee – Phone – Online
Social distancing practices observed.
Masks preferred.
Preview:
Mon, June 1 ~ 10 AM – 5 PM
Tues, June 2 ~ 10 AM – 5 PM
Wed, June 3 ~ 10 AM – 5 PM
Thurs, June 4 ~ 10 AM – 5 PM
Fri., June 5 ~ 10 AM – 8 PM
Sat., June 6 ~ 8 AM – 9 AM
Preview Location:
Municipal Light Plant
589 W Nationwide Blvd, Columbus, Ohio 43215
Online catalog to be available 2 weeks prior to auction
https://www.garths.com/eclectic-auction-june-2020
2020 BT5K Run & Walk
After much careful consideration, the ABTA has made the decision to move the Columbus Breakthrough for Brain Tumors 5K Run & Walk from a physical event to a virtual event this Saturday Jun 6.
We anticipate the virtual event to take place in late summer/early fall. Please watch here for the event update.
The Centers for Disease Control and Prevention and the Columbus Department of Public Health have recommended the cancellation of public events concerning COVID-19 (coronavirus). While this decision did not come lightly, we are following their recommendation.
For more information, please visit https://www.facebook.com/events/191413058672199/.
North Market Farmers' Market Opening Day!
Let's celebrate the return of the North Market Farmers' Market!
The North Market Farmers' Market is one of the oldest and largest in Central Ohio! Every Saturday throughout the growing season, June through October, Ohio farmers bring their fresh-picked produce to North Market, where customers are able to purchase directly from the local farms selling the highest-quality products from their fields. Additionally, we aim to combine local farms and local entrepreneurs selling hand-made & vintage items, fine arts & jewelry for a bigger, more eclectic and experiential Farmers' Market.
North Market's Farmers' Market season officially begins Saturday, June 6!
The following measures will be in place on the plaza to ensure proper social distancing, sanitation, and safety is observed by vendors and guests alike:
* North Market's mask requirement that applies to indoor merchants and guests will also apply to all outdoor vendors and guests.
* Access to each farmers' market booth will be limited. Markings on ground will indicate this requirement and will show the distance required between people.
* Several farms and vendors will offer contact free shopping and pre-orders. North Market asks that guests pre-order and plan out shopping trips when possible. This helps us keep crowds to a minimum and lines moving smoothly.
* Farms and vendors will provide hand sanitizer for guest use.
* North Market farms and vendors are committed to helping prevent the spread of illness by washing hands frequently, covering coughs/sneezes, staying home when sick, and avoiding exposure to others who are sick. We ask that all guests follow the same protocols and do not visit North Market or the Farmers' Market if feeling ill.
* North Market farms and vendors will continue to strictly follow all local public health guidelines, safety protocols, and best practices.
Local Farmers' Markets are important to keep farmers in business and support local food systems and provide access points to fresh, healthy food. North Market's focus on shopping small and buying local is amplified through the Farmers' Market through the support of local farms and other local makers.
The North Market Farmers' Market is a weekly rain or shine event taking place Saturdays from 8:00am to 12:00pm from June 6 through October 31.
Along with a weekly selection of rotating vendors, the following seasonal vendors will be in regular attendance:
Andamaline Apothecary
Anderson Orchard
Berner's Free Range Farm
Blueberried Alive!
Bridgit's Bath
Bug Run Farm
Cafe Butter
Casa Secretos
Dutch Creek Goat Farm
Falafel Kitchen
Grateful Snacking Company
Hinton Apiaries
Huckstle Premium Grooming
Jewelry by Cricket Jones
My Iced Cookie
One Season Microgreens
Persinger Farm
Quiverful Family Farm
Rain4est Essential Skincare
Shady Grove Farm
Talcom-Quinn
The Cat and the Raven
The Compost Exchange
The Pastry Factory
The Sweater Lady
Thomas Family Orchard
Two Black Sheep
Yelo Aple
As in past years, North Market guests will be able to visit the Farmers' Market info booth (Saturdays only) or the Business Office (during regular Market hours of operation) on the second floor to use a SNAP/EBT card to buy SNAP-eligible foods at North Market! North Market is proud to participate in the SNAP/EBT program, which helps low-income families access more fresh fruits and vegetables while supporting local farmers and growing local economies.
GENEROUS SUPPORT PROVIDED BY:
M3S Sports
Le Meridien Columbus, The Joseph
CD102.5
Join us at #yournorthmarket!
For more information, please visit https://www.facebook.com/events/2512839065697974/.
Vegan Summer Pop Up Markets
Are you ready to celebrate summer in a different way?
Join It's All Natural Temple Store in their Vegan Summer Pop Up Market this summer!
These drive-through pop-up events will combine the offerings of local vegan / vegan-friendly food businesses and make them fully accessible to the public with minimal contact and convenience for everyone all in one location.
Each business will set up on-site, where attendees will be able to preview menus, pre-order online and pick up the order from each business at drive-through lanes.
We will reserve 11 am-12 pm for senior citizens, other high-risk groups, and those picking up from a single vendor.
Pre-order directory available one week before each market.
http://www.chingtermaitreya.org/fundraiser-store.html
Please also understand that we are not operating the Market as a time or a place for socializing or social gathering. You are EXPECTED to wear a face cover in common area spaces, while still maintaining a minimum of six feet of social distancing between yourself and others.
For those of you who prefer to visit our temple store during the event, please park your car next door at Farabaugh Chiropractic (2879 E Dublin-Granville Road) and use the South Entrance. You may be ask to wait outside if the store is full.
Vendors Sign Up
https://forms.gle/jRg7FJMpL7LgqV42A
Volunteers Sign Up
https://forms.gle/tbozcYPWsTJkWtRk7
Stay tuned to OnColumbus.com, your site for fun, free, local entertainment for upcoming events in our weekly column, FUN10, every Sunday!
#Fun10Columbus
Tess Abney is a freelance writer who was born and raised in the Quad Cities. She spends most of her time attempting to successfully raise three boys. In her free time, writing is her passion. Whether it is sharing local events and businesses with readers or sharing her thoughts on life, she finds comfort in the way words can bring people together.