International Women's Day Is A Thing?
As you were scrolling through your phones or computers yesterday, you may have noticed it was International Women's Day. I personally have been a woman for quite some time now and was completely unaware of this magnificent opportunity to celebrate my existence, until now. Anyone else? I was even more shocked to find out that the day of observance was initially organized in New York back in 1909. What?!
It turns out the earliest Women's Day observance, called "National Woman's Day," was held on February 28, 1909, in New York, organized by the Socialist Party of America at the suggestion of Theresa Malkiel. Though there have been claims that the day was commemorating a protest by women garment workers in New York on March 8, 1857, researchers have described this as a myth.
Countries all across the world quickly picked up on this concept and began celebrating the years proceeding the United States gathering. This all makes a lot of sense. The early 1900's was a very important time for women across the world. The Women's Suffrage Movement here in the United States was picking up momentum and changing lives (both men and women's) across the nation.
Until the mid-1970s, International Women's Day would be celebrated primarily in socialist countries. In 1975, recognized as International Women's Year, the United Nations General Assembly began celebrating March 8 as International Women's Day. By 2014, it was celebrated in more than 100 countries, and had been made an official holiday in more than 25.
While the concept of International Women's Day is rooted in acknowledging and respecting the trials and tribulations women have had to overcome to gain independence and opportunities, some celebrations have gone in a slightly different direction. In 2016, for example, a group of Chinese men got together wearing dresses and high heels to 'climb a mountain'. They explained this as an opportunity to experience the hardships of being a woman. In theory, I'm sure this made a lot of sense to the men. However, if it were as easy as putting on some heels and walking up a flight of stairs (while a very large and steep flight of stairs) for the women fighting for our rights to vote or own property – I have a gut feeling the 19th Amendment would have been passed long before 1920.
Due to its ties with socialism and communism, perhaps it's not surprising that International Women's Day didn't catch on here in the United States the way it did in other countries. Recently, however, international digital marketing campaigns have brought the holiday (in its less-political form) further into American culture, complete with corporate support from PepsiCo and other brands.
The campaign theme for International Women's Day in 2019 was #BalanceforBetter. Straight from the official International Women's Day website (https://www.internationalwomensday.com/) it is further explained as "A balanced world is a better world. How can you help forge a more gender-balanced world? Celebrate women's achievement. Raise awareness against bias. Take action for equality." If you check out the website, you can find a list of sponsors for this year's observance as well as social media campaigns and activities to join in on the celebration.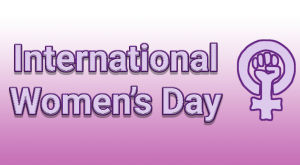 I was pleasantly surprised to see the respectful posts from my male social media connections, yesterday. Once I realized International Women's Day was going to be the viral sensation throughout the day, I immediately prepared myself for memes referring to cleaning, cooking and other bias 'jokes' about women. However, that wasn't the overall case. I saw a lot of thoughtful and reverent acknowledgments to important women in their lives. Images of mothers, grandmothers, wives, sisters and female friends continuously flowed on my news feed, with heart-felt words of respect attached to them. Did the occasional joke about forgetting the iron an International Women's Day sign or taking too long to get ready come up? Of course. But that's to be expected. I decided to focus on the heart-warming posts supporting the important women in their lives. And it turned out to be a very enjoyable experience.
The realization that this day of observance has been around for well over a hundred years, and I wasn't even really aware of it, came as a shock. However, the outcome was exactly what it was meant to be. I researched and I learned something, and awareness ensued. So here I am, sharing the awareness with anyone else who felt uninformed about a holiday dedicated to your entire existence.
I would like to request one thing, though. Women, can we show men the same respect and acknowledgment they deserve on International Men's Day? That's right. Didn't know about that one, either. International Men's Day was inaugurated in 1992 and is celebrated on November 19. Let's utilize these hard-fought for days of observance and show our admiration and reverence to those who embody what it means to be a man or woman, without bias. We all deserve it!
Tess Abney is a freelance writer who was born and raised in the Quad Cities. She spends most of her time attempting to successfully raise three boys. In her free time, writing is her passion. Whether it is sharing local events and businesses with readers or sharing her thoughts on life, she finds comfort in the way words can bring people together.