Food Truck Fridays at the House
It's the first Food Truck Friday at the Ronald McDonald House for 2020!
Friday Jun 6 kicks off the fifth year of this summertime tradition! Every Friday for lunch, we have two of Central Ohio's best savory food trucks and one of Columbus' best dessert trucks at our House!  For our first FTF at the House this summer, we have The Paddy Wagon Food & Roosters Road Show with Graeters614 Ice Cream truck!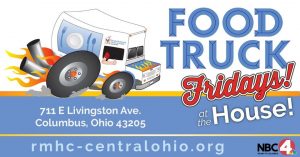 Click here to see the trucks coming to the House on Fridays and look for the button to order ahead when it's almost 11 a.m. every Friday: https://streetfoodfinder.com/RMH. Send yourself a reminder! You can now subscribe to email updates for Food Truck Fridays at the House through this link!
These can be stressful times and we hope the return of food trucks to our House helps to provide some stress relief rolling into the weekend. To minimize stress of those around you at FTF, please order ahead through the Street Food Finder website/app or the truck's online ordering system to avoid waiting at the trucks. Also, we ask that you please remember to wear your mask to be considerate of the food truck workers, other customers, and our families who have children & babies in area hospitals. Of course, we also remind you to keep at least 6-feet from others when coming to pick up your order. Unfortunately, we will not be providing seating this year for the safety of the food trucks' customers.
With so many of our fundraisers having to be canceled or postponed this summer, we truly thank you for helping to support the Ronald McDonald House by coming to get grub on Fridays for lunch. Trucks pay a parking fee & give us 10% of proceeds during FTF.
---
For more fun things to do in Columbus this week, check out the latest issue of Fun10Columbus. 
Tess Abney is a freelance writer who was born and raised in the Quad Cities. She spends most of her time attempting to successfully raise three boys. In her free time, writing is her passion. Whether it is sharing local events and businesses with readers or sharing her thoughts on life, she finds comfort in the way words can bring people together.