10 Fun Things To Do Week of June 14th: MadLab, Markets, Mimosas and MORE!
OnColumbus.com proudly presents our newest feature, FUN10, a list of the top 10 things to do in the Columbus this week, and every week! Every Sunday, we'll drop a new FUN10, to give you a head start on your week and a heads up on what's going on over the coming seven days. Check out FUN10 every Sunday for the details on ten awesome events happening around town. It's a cool read, and a great way to get started planning your entertainment for the week.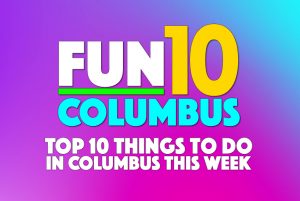 Due to the cancellation of so many regularly scheduled events in Columbus – with more coming in every hour – we're focusing this week's edition of Fun10Columbus on fun entertainment you can enjoy in the safety of your own home or while practicing safe 'social distancing' while the state begins to open back up.
FUN10 — ten ways for you to have fun in the Columbus, this week and every week, running every Sunday, only on your site for fun, free, local entertainment, OnColumbus.com!
So what's on the FUN10 for this week? Read on …
MadLab's Blackjack Short Video Festival
MadLab dealt the cards:
Unable to produce live shows, including their annual Theatre Roulette short play festival, MadLab challenged independent filmmakers to produce short films for us during quarantine.   No rules, except to follow state-mandated social distancing guidelines and keep it to 3 minutes or less.
And these are the ones who played their hand so very well. The Blackjack Short Video Festival is here.
Send a small donation here: http://madlab.net/covid-19-relief.html and we will send you a link to check out this great collection of shorts from some of your MadLab favorites and more!!
For more information, please visit https://www.facebook.com/events/288533418954390.
Quaker Steak Bike Night
Make plans to head out to Quaker Steak and Lube (8500 Lyra Dr. Columbus) this Wednesday Jun 17 from 6 – 19 p.m. for Bike Night!
Enjoy live music from Whiskey Would, along with amazing food, drinks and company!
For more information, please visit https://www.facebook.com/events/2616715275270906/ or http://thelube.com/.
Third Thursday at CRC
Join Wednesday Wine and CRC – The Clintonville-Beechwold Community Resources Center (3222 North High Street Columbus) this Thursday Jun 18 from 5:30 – 8:30 p.m. for Third Thursday June!
This outdoor, live music and food truck event featurs local beer, live music, delicious food trucks and kid's activities. Tables under tents, chairs provided.
Bring the whole family. Proceeds benefit CRC!
For more information, please visit https://www.facebook.com/events/824720598027195/.
Westgate Farmers' Market
The Westgate Farmers Market takes place the first and third Saturday of each month, June through October, from 9:00 AM to noon.  We are located at the West Gate Masonic Lodge.
Westgate Farmers Market's goal is to make healthy, locally-produced foods more accessible to west side residents and to teach residents the benefits of including locally-grown produce in their shopping and daily meal planning.
This year's market will be a little different.  Please continue to check our website for updates related to our response to COVID-19:
http://www.westgatefarmersmarket.com/covid-19
Good food brings communities together.
Boozin' Through the 90s Bar Crawl
Do you miss the '90s, fanny packs, JNCOS, overalls, bright colors, or even pigtails? Alright stop collaborate & listen because we do too! So dig through your closet, lace up your high tops & come dance the day away while listening to *NSYNC, Run DMC, Brittany Spears & Hanson…. mmm bop!
Boozin' Through the 90s Bar Crawl happens this Saturday Jun 20 from 3 – 10 p.m. in Arena District, Columbus.
For more information, please visit https://www.eventbrite.com/e/boozin-through-the-90s-bar-crawl-columbus-oh-bar-crawl-live-registration-73783455301.
Record Store Day 2020
Used Kids Records (2500 Summit St. Columbus) is proud to announce their participation in the upcoming celebration of the vinyl record format and the independent retailers that have kept the medium alive!!
Used Kids Records presents Record Store Day 2020 this Saturday Jun 20 from 8 a.m. – 8 p.m.
Since 1986, Used Kids keeps the record store tradition alive in Columbus buying, selling, and trading new and used vinyl records, among many other formats of music, as well as vintage hi-fi audio gear, and plenty of other related goods.  We are very excited about this year's RSD, and eager to participate!!
We will have all of the official RSD releases, as well as exclusive releases, merchandise, and many MANY more surprises!!
We will update the post as details are confirmed.
SMASH THAT GOING Y'ALL!!
For more information, please visit https://www.facebook.com/events/236637470687305/.
Betty Bangs: Straight Outta Quarantine
Enjoy some live music from Betty Bangs this Saturday Jun 20 from 7 – 11 p.m. at Chubby's Sports Bar & Grill (1846 Hard Rd. Columbus).
From Betty Bangs' Facebook Event Page:
We're back, baby!
Join us on the Chubby's patio for our first show since lockdown. We'll be sharing the stage with some very special guests and even though we can't tell you who they are, we can promise you that all your rockabilly, outlaw, old school country, rock n roll, punkabilly itches will be scratched!!!
For more information, please visit https://www.facebook.com/events/324078101916620/.
Angela Perley Live at Natalie's
Looking for some live music this weekend?
Angela Perley will perform live at Natalie's (945 King Ave Columbus) this Saturday Jun 20 from 8 – 10 p.m.
Angela Perley has been gigging nonstop with her band The Howlin' Moons since they released their debut album in 2014, laying down an interesting mix of folk, Americana, and '60s-tinged psychedelic rock that floats seamlessly between Bob Dylan and Procol Harum, sometimes within the same song."— No Depression
All of this led up to Perley's latest LP, '4:30' (released Aug. 2, 2019), her first solo effort which she co-produced with longtime guitarist and collaborator, Chris Connor. Her third full-length record illustrates the songwriter's knack for deft storytelling, warm vocal layers, and disarming melodies that beget personal growth and mobility, surging from raw and far-sighted pathos.
Billboard says, "The set's 12 songs run the gamut from psychedelic garage rock to melodic pop and heartfelt country and Americana" and Perley's character-driven love songs on '4:30' are surreal in their ability to master genre-fluidity, with forthright storytelling, wry lyricism, and a host of dreamy instrumentation.
Perley has opened for Willie Nelson, Lucinda Williams, Tyler Childers, CAAMP, O.A.R and Blues Traveler, and continues her musical journey one record and show at a time.
For more information, please visit https://www.facebook.com/events/585015772127917.
Trucks and Tacos
Come hangout with Honest Speed Shop (5110 Trabue Rd. Columbus) this Saturday Jun 20 form 12 – 3 p.m. and bring your Truck/ Jeep and anything 4×4.
Honest Speed Shop will have Chico's taco truck so please bring some money to buy lunch to support another great local business.  We will have some giveaways.  It's also Ruth Ann's Birthday so make sure to bring her something special. We look forwarding to seeing you!
Chico's Tacos: https://www.facebook.com/chicostacoscolumbus/
For more information on this event, please visit https://www.facebook.com/events/2912360635516891/.
Brunch in Paradise
Get your brunch on this Sunday Jun 21 from 11 – 3 p.m. at Palmas Tropical Escape's (46 N High Street Columbus) Brunch in Paradise! Parking is FREE!
Enjoy 5 Tropical Mimosas, fresh ocean breeze, food, music and more!
For more information, please visit https://www.facebook.com/events/927155721054480/.
Stay tuned to OnColumbus.com, your site for fun, free, local entertainment for upcoming events in our weekly column, FUN10, every Sunday!
#Fun10Columbus
Tess Abney is a freelance writer who was born and raised in the Quad Cities. She spends most of her time attempting to successfully raise three boys. In her free time, writing is her passion. Whether it is sharing local events and businesses with readers or sharing her thoughts on life, she finds comfort in the way words can bring people together.