10 Fun Things To Do Week of May 24th: Motorcycles, Karaoke, Dancing and MORE!
OnColumbus.com proudly presents a brand-new new feature, FUN10, a list of the top 10 things to do in the Columbus this week, and every week! Every Sunday, we'll drop a new FUN10, to give you a head start on your week and a heads up on what's going on over the coming seven days. Check out FUN10 every Sunday for the details on ten awesome events happening around town. It's a cool read, and a great way to get started planning your entertainment for the week.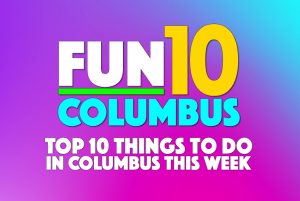 Due to the cancellation of so many regularly scheduled events in Columbus – with more coming in every hour – we're focusing this week's edition of <tag line> on fun entertainment you can enjoy in the safety of your own home or while practicing safe 'social distancing'.
FUN10 — ten ways for you to have fun in the Columbus, this week and every week, running every Sunday, only on your site for fun, free, local entertainment, OnColumbus.com!
So what's on the FUN10 for this week? Read on …
Memorial Day Remembrance Ceremony
Mark Memorial Day with the National Veterans Memorial and Museum annual Remembrance Ceremony at 10 a.m. (ET) on Facebook with special messages and remarks from the following:
General Colin L. Powell, U.S. Army (Retired)
Secretary Robert Wilkie, Department of Veterans Affairs
Ryan Manion, president of the Travis Manion Foundation and sister of 1st Lt. Travis Manion, USMC, who gave his life in service to his patrol and his country
President and CEO Lt. General Michael Ferriter, U.S. Army (Retired).
Following this brief ceremony, continue to remember our beloved servicemen and women on social media with #IWillAlwaysRemember #NVMM #MemorialDay2020
Social DistanSING Online Karaoke
Platinum Music Productions is bringing the party to YOU wherever you may be.
This next round includes 6 weeks of karaoke on Tuesdays and is sponsored by Hard Road Cafe. Each singer will receive a raffle ticket for every song they sing. On June 30th we will draw a winner for a $25 Gift Card to Hard Road Cafe. EVERYONE is welcome to sing or just watch and say hi. Get on Tuesday nights and say hi to your favorite people!!! PLEASE share and send invites to your karaoke friends.
Topic: Social DistanSING Online Karaoke Party
START: May 26, 2020 08:00 PM Eastern Time (US and Canada)
END: JUNE 30, 2020
Join Zoom Meeting
https://us02web.zoom.us/j/84921333627?pwd=a2s3WWdYWkc4QWt0dVRraFFOelNYdz09
Meeting ID: 849 2133 3627
Password: karaoke
IVC at Home: Forensic Psychology
Connect with the COSI Team through virtual programming right in your home! These live, interactive learning experiences are offered weekly for individual connections, and on-demand for larger groups. Participate with materials you can find around the house or order the materials from us.
COSI uses Zoom, an online videoconferencing service, for all programs. You have the option to connect from a PC, Mac, tablet, or even smartphone.
About Forensic Psychology:
Interested in learning more about the complex interface between mental illness and the criminal mind? Join forensic psychologist Dr. Meredith Veltri to learn how individuals charged with crimes are psychologically evaluated to determine if they are mentally fit to stand trial and criminally responsible. In this interactive session, Dr. Veltri will guide you through a step-by-step forensic analysis of a (fictional) complex forensic case involving claimed insanity. Discuss the legal definitions of criminal insanity, review the facts of the case, and ultimately, give your option: sane or insane.
Date: Tuesday, May 26 at 1:00pm EST
Grades: 9-12 (adults)*
Run-time: 60 minutes
Individual Connection (w/o supplies): $5
Group Connection : Please email videoconferencing@cosi.org of details on group connections.
*This program will discuss a fictional murder case. There are no graphic images.
Ohio Black Dance Goes Digital
"Social dancing while social distancing"
Ohio Black Dance: Digital Dance online class series is a regular weekly scheduled virtual dance technique class, community conversations, and weekly Social Media posts including educational information, videos, and various community engagement activities.
Digital Dance has a three pillar focus of Culture, Community, and Connection. Ohio Black DIGITAL Dance will serve under the King Arts Complex Cultural Arts Department providing educational resources, continued connection and engagement with our community.
To sign up, go to kingartscomplex.com/ohioblackdance and fill out the form or email Lawrence Lemon at nomellemon@gmail.com with your name, email, and phone number.
(Must download the Zoom app on your smartphone or computer, or go to Zoom.com on your computer and click "Join")
Community Conversations and Connections will also be held on Thursdays starting May 21, 2020 at 2 PM. The information will be shared on The King Arts Complex Facebook page as a status/in the Posts section. Please like our Facebook page if you haven't already.
Free and for all ages
The Ultimate McCartney Experience Goes Virtual
The McCartney Project will be streaming a 30-minute mini-concert on Wednesday, May 27th at 7 PM (EST).
While they cannot perform live, they have put together a live stream from their February 8th, 2020 show. You will be in the front row and we will be online to chat during the performance. Cast the video to your large screen TV and put on your headphones for the most immersive experience!
Find the stream on their Facebook page on May 27th!
Honey and Blue ApART Together Concert Series
Honey and Blue is the refreshing, soul/pop duo of Adam Darling and Stephanie Amber. They will perform a selection of originals and high-energy covers with their own signature twist, this Thursday May 28 at 7 p.m.
ABOUT THE APART TOGETHER CONCERT SERIES:
This FREE series will stream 30-minute sets daily at 7pm from diverse, local artists on the CAPA Facebook page, offering viewers the chance to experience the wealth of local talent that calls Columbus home and providing performers the opportunity to earn an income while venues are closed. View the full series lineup here → https://bit.ly/2RXrI26
Dance with Rona Wellness Party
If you missed last week's Facebook Live Dance-for-Wellness Party, here's another chance for…
THIS WEEK'S THEME: FLY!
Friday May 29 at 7:30 p.m.
Feeling stuck? Getting restless?
Time for our FB Live Friday Party!!!
Tune in and let's move together.
Feel your body rejoice. Sweat out all the toxins.
Be energized with the joy of movement.
Moving is healing… let's do this!
We'll dance to Classic Nia with an edgy mix of pop, rock, hip-hop and world music. You will condition your body for FAMSS: Flexibility, Agility, Mobility, Strength, Stability. Nia moves are easy to follow, designed for anyone to naturally move 'The Body's Way… Your Way!'
Visit https://www.facebook.com/events/351263832503090 for more information.
Third Degree Sideburn Goes Live!
Since you can't come to see them, they're coming to you! That's right, Third Degree Sideburn is going virtual!
Join Third Degree Sideburn this Saturday May 30 at 7 p.m. for a live concert performance streamed on Facebook from Larz's living room!
Tips will be accepted via Venmo (with all proceeds going towards funding for their new album due out in 2022) and they will be taking requests during the performances.
Visit Third Degree Sideburn on Facebook, today!
A Taste of Class for Kids 2020
Big Brothers Big Sisters is bringing you the 37th annual A Taste Of Class For Kids Gala- online and in style!
Join us for an entertaining evening featuring the talents of Big Brothers Big Sisters Littles and Alum.
Register for the event and bid on some amazing items and experiences during in our virtual auction at https://one.bidpal.net/tock20/welcome
For more information, visit https://www.facebook.com/events/903365260179375/.
Buckeye Bike Days
The wait is over! It's time to party with Buckeye City Motorsport once again!
Join Buckeye City Motorsports (4106 E Main Street Columbus) for Buckeye Bike Days, this Saturday May 30 at 12 p.m.
They will have a DJ, beer and new clothing available! It is asked that you practice social distancing. There are 2 acres of area, and keeping our distance is still very important.
Buckeye City Motorsports wants everyone to stay safe and healthy. And they cannot wait to see you all!
*This event is ride or drive and is family oriented*
Stay tuned to OnColumbus.com, your site for fun, free, local entertainment for upcoming events in our weekly column, FUN10, every Sunday!
#Fun10Columbus
Tess Abney is a freelance writer who was born and raised in the Quad Cities. She spends most of her time attempting to successfully raise three boys. In her free time, writing is her passion. Whether it is sharing local events and businesses with readers or sharing her thoughts on life, she finds comfort in the way words can bring people together.